Captain Felipe Fernandez
August 13, 1916 - March 9, 2013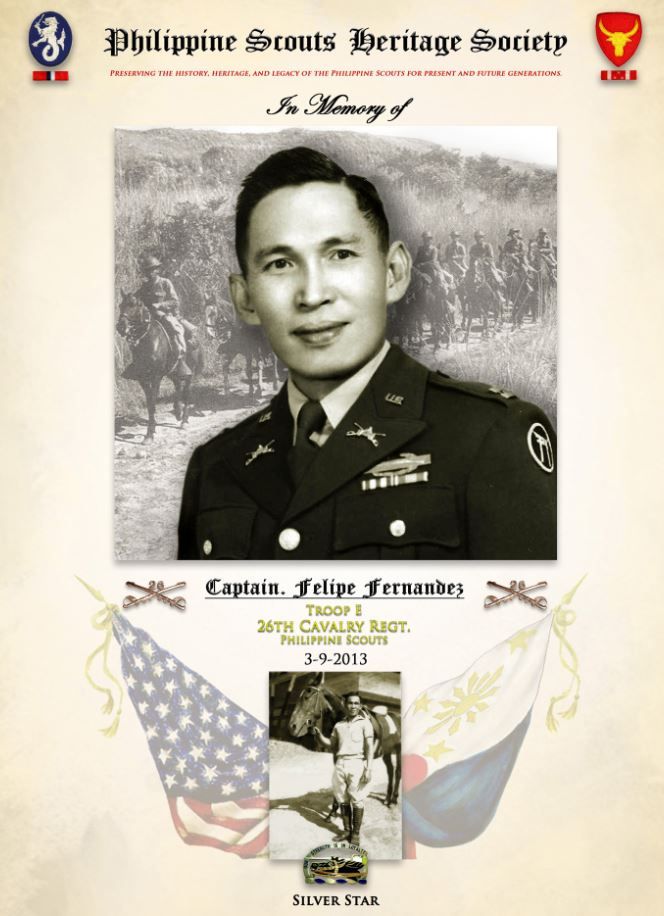 By
Manila Standard Today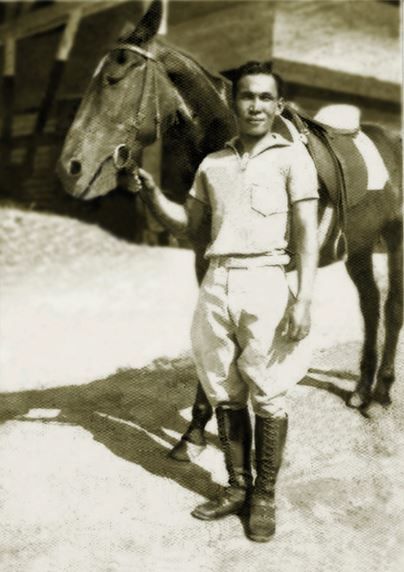 "I have a piece of metal to hand on my left breast but I lost many friends in that horrible struggle. Are the sacrifices we gave worth it? Did we really change the lives of later generations for the better? It is up to you, for whom we fought for, to show that our sacrifices are not in vain"— Capt. Felipe Fernandez Sr.
Captain Felipe Fernandez (Ret.) passed away last March 9 in his home in Monterey, California. He was 96.
His granddaughter, Sara Susanne Fabunan, reporter of Manila Standard, said it was the wish of her lolo "for our generation to value our history and the country that our forefathers fought and died for in order for us to have the freedom that we are now enjoying."
In one of the many emails he sent Sara, Fernandez wrote: "Let us show the world that we as a nation love our independence and will protect it not only with might but with tolerance and understanding (about the past)."
"Now we are a sovereign nation not governed by another and non-reliant to anybody else. The question is what are we going to do with our independence? Are we going to surrender it to another nation stronger than us or are we going to fight for it with all that we have?"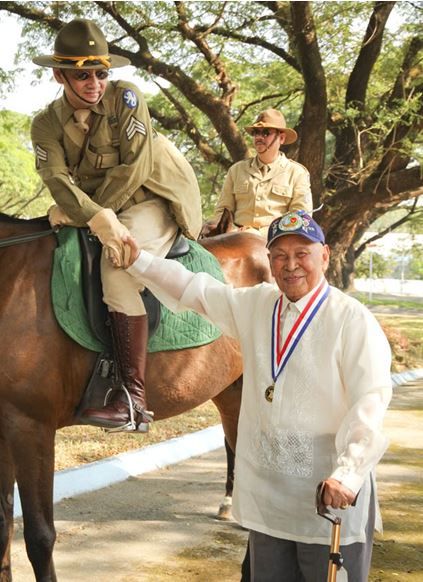 Fernandez is survived by his wife, Emilia, 86; his children Consuelo, Gloria, Ceasar, Kathryn and Gabriel; and grandchildren in the Philippines and United States.
He belonged to the 26th Cavalryman of the Philippine Scouts who fought the invading Japanese forces during World War II.
Captain Fernandez took part in the defense of Bataan from January to April 1942, holding back the Japanese long enough to allow Filipino and American troops to regroup for final stand in the peninsula.
Refusing to surrender after Bataan fell on April 9, he and his comrades chose to join the embattled troops in Corregidor island until the fortress followed on May 6.
Fernandez was wounded and captured and brought to Camp O'Donnel in Tarlac along with thousands of Filipino and American soldiers who survived the Death March.
FELIPE ALIMOURONG FERNANDEZ
1916 - 2013
SEASIDE CA - Captain Felipe Fernandez (U.S. Army, ret.), born August 13, 1916, died March 9, 2013 in Seaside, California at the age of 96. He lived a long, fruitful and healthy life until diagnosed with cancer in early 2013. He passed away peacefully, at home, surrounded by loving family.

Felipe was born in the small town of San Nicolas, in the province of Pangasinan, Philippines, son of Isidoro and Maria (Alimourong) Fernandez, the fourth of six children. After graduating from the Pangasinan Academic High School in 1935, the next year he enlisted in the 26th Cavalry (Horse) Regiment of the Philippine Scouts, a unit of the regular U.S. Army based in the Philippines. When hostile forces invaded his homeland in December 1941, by then a sergeant, he fought valiantly in defense of the islands, first near the beaches of Lingayen Gulf, then on Bataan Peninsula and finally on Corregidor Island where he was wounded and captured by enemy forces. Surviving the horrors of a prisoner of war camp and subsequently living as a civilian in an occupied nation, when Allied forces landed to retake the islands, he quickly rejoined the Philippine Scouts and served out the war in a military police unit stationed in Manila. He was awarded the Silver Star for his valor in the Battle of Tayug (December 1941) and a Purple Heart for injuries suffered in the defense of Corregidor Island (May 1942). In addition, he was awarded a Prisoner of War Medal for internment by enemy forces.

Following the war, Felipe chose to make the U.S. Army his career. As is the case with military life and the need to serve where and when called, in 1949, he left Emilia and his children in the Philippines and relocated to the United States. It was during this time that he re-connected with his older brother, Alfredo (Chico), who had immigrated to the mainland in 1925 never having returned to his homeland. It had been 25 years since the two had seen each other. Chico owned the Chungking Café in Nogales, Arizona. Later, the two, as partners, opened the Arcade Café, also in Nogales.

In 1951, Felipe again served in combat, this time in the Korean conflict. During the last days of his tour of duty, he seriously injured his back while leading a combat control mission. He was awarded a Medal of Commendation for exemplary service.

Wanting to move his family to the United States, Felipe first had to spend yet another tour in a foreign post. He chose Okinawa. By doing so, he was able to reunite with Emilia and his children after a separation of three years. Their billet on the island was enlightening. His wife finally experienced the comforts of American military life – indoor plumbing, an American kitchen, domestic help and the like.

Then, when the opportunity arose, he relocated the family to California where he served in varying capacities at Fort Ord and Camp Roberts. In 1964, Felipe and his family were transferred to Fort Wainwright in Alaska. In 1965, he was promoted to Sergeant Major, the first of that rank in his battalion and a rare achievement, at the time, among Filipino-American service members. While in Fairbanks, he was awarded yet another Medal of Commendation, with "V" device (valor) and Oak Cluster, for saving a drowning boy.
After 30 years of military service, he retired from active duty in 1967. Too young to sit at home, he went on to work for the federal government for another 20 years, in a civilian capacity, during which time he returned to school and graduated from Golden State University with a Bachelor of Arts degree in management (1976). In 1987, when after a combined 50 years of government service, in the military and as a federal civilian employee, he finally hung up his spurs, so to speak.

In his retirement years, he was active in the Philippine Scouts Heritage Society, and other veterans' organizations, as well as serving as a past master of the local Monterey Masonic Lodge (#217). He was known for his sense of humor and he loved public speaking. He could always be counted on to deliver a celebratory toast, a solemn grace and much too often of late, eloquent eulogies. When not traveling the country and abroad to participate in and speak at Scout reunions and other events, he and his wife, Emilia, enjoyed visiting their extended family in places as diverse as Phoenix, Atlanta, San Francisco and San Nicolas (Philippines) along with frequent senior bus trips to Lake Tahoe and Reno for recreational purposes.

They also enjoyed long walks on the beaches of the Monterey Peninsula, often hand-in-hand. Their routine changed when they could no longer physically handle those long walks. Felipe would then drive the family car around town, often stopping at the "working" wharf in Monterey Bay for a stroll or simply to park in the best disabled person's spot, "my space" he called it, and look out at the ocean for a good long time.

Felipe is survived by his wife of 70 years, Emilia (nee Abojado), and their five children – Consuelo (married to Fred Richardson); Gloria (married to Laurence Athos); Felipe Fernandez, Jr. "Ceasar" (married to Susanne Fabunan); Kathleen (married to Alan Laity); and Gabriel (partnered with Martin Meinheit). He was blessed with eight grandchildren - Kriste Richardson (married to Delaney Dragon), Travis Richardson (married to Wendy Henderson), Zach Richardson (married to Jamie Hammond); Marisa Athos, Brian Athos and Alexandra Athos (married to Dylan Brown); Sara Fabunan (his step grand-daughter); and Mia and Trevor Laity. In addition, it delighted him when in the company of his six great-grandchildren: Sy, Della and Nevada Dragon (the children of granddaughter Kriste); Secilia and Parker Richardson (the children of grandson Travis) and the very youngest, born just last year, Ryann Richardson (the daughter of grandson Zach). 
(Source: http://www.missionmortuary.com/sitemaker/sites/Missio1/obit.cgi?user=939414Fernandez)

Last modified: 07-Apr-2013
---