Lt. Colonel Loyd Edward Mills
April 7, 1918-January 14, 1990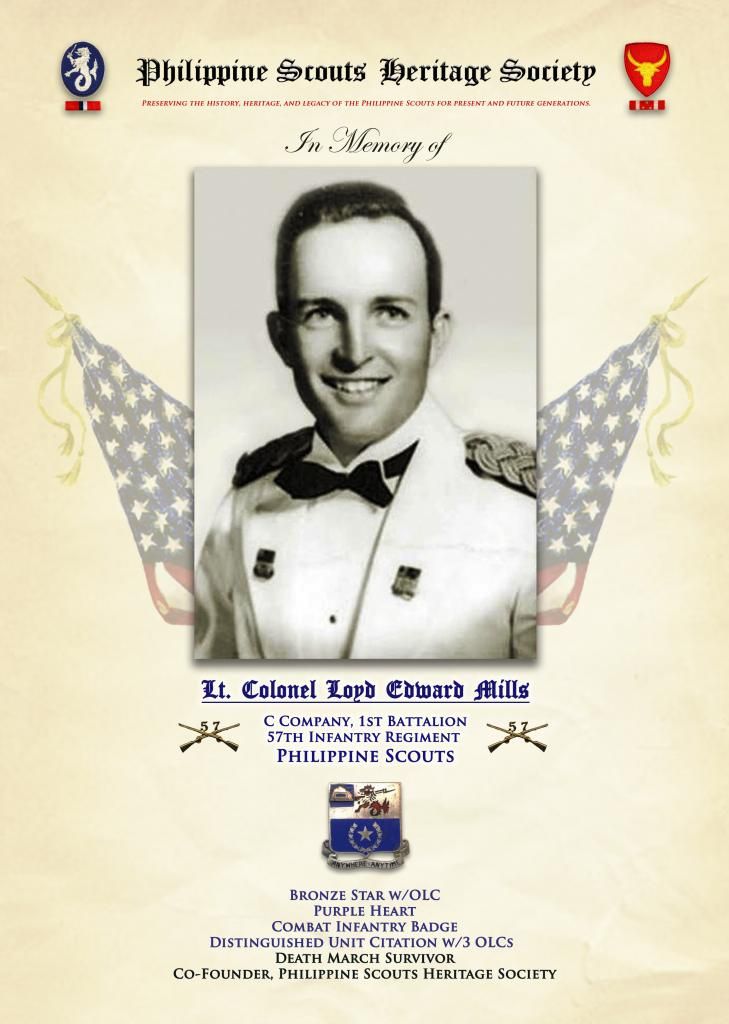 25 years ago, on January 14, 1990, Lieutenant Colonel Loyd Edward Mills passed away. He left an amazing story and legacy behind.
He was a leader:
- Commanded C Co., 57th Infantry (PS) and defended Bataan against the relentless assaults of the Japanese Imperial Army
- Western States Chapter, American Defenders of Bataan and Corregidor from 1976-77
- Co-founder of the Philippine Scouts Heritage Society
He was a survivor:
- Survived the Bataan Death March
- Survived the bombing of the hellship Oryoku Maru
- Survived the attack on the hellship Enoura Maru
- Although he had to be carried off of the hellship Brazil Maru, he survived.
- Survived Japanese POW camps in Japan and Korea.
After two tours in Japan, Loyd retired as a Lieutenant Colonel, U.S. Army Reserves, in 1960.
During his Army career, he received the Presidential Unit Citation w/3 Oak Leaf Clusters, Bronze Star w/Oak Leaf Cluster, Purple Heart, POW Medal, Army Commendation Ribbon, American Campaign w/1 Star, Asiatic-Pacific Campaign w/3 stars, Army Occupation Forces Medal, WWII Victory Medal, Philippine Defense Medal w/1 star, Philippine Liberation Medal, Philippine Independence Medal the Philippine Gold Cross, and Philippine Military Merit Medal.
In 1964, he graduated from California State College, Fullerton, CA and became a probation officer in Riverside, CA.
Let us not forget this leader, survivor, and friend.
Last modified: 03-Jan-2015
---